Footprints of Franklin
A Great Christmas Gift
It is once again Christmas time and the Franklin Historical Society is offering its latest publication "Footprints of Franklin" by Judy Scherrer for sale in the Town Hall on Saturday, December 5 after the church services and on Sunday, December 6 during the open house. It is your opportunity to become Santa and buy a book for someone or even for yourself. Enjoy the 40 stories and over 150 pictures that tell the story of Franklin and its people. You may be surprised to find your own family mentioned in the book or see photos that have not been published in previous books. Be sure to stop by and see Judy at "Santa's gift table" and pick up a book. The cost of the book is $20.00 and all proceeds will go to the Franklin Historical Society for use in its programs.
You can also purchase the book by calling Jim or Marian Luckey at 414-421-6539 or e-mail
luckeyjim@yahoo.com
to order and we will deliver for no charge to anyone in Franklin or surrounding communities. You can also order by going to the "Contact" page of this website and use Pay Pal to have it shipped directly to you for a total cost of $25.
Upcoming Events
Historic Christmas Village Weekend
Joint Holiday/Tree Lighting Weekend Events by the
Franklin Historical Society and the Franklin Public Library
Saturday, December 5th
Historic Village, Lions Legend Park
9200 S. Legend Dr. (Hwy. 36 & Drexel Ave.)
Whelan School Christmas Open House - 3 p.m.
Tree Lighting , Old Town Hall - 5 p.m.
Historic Church Services, St Peters Chapel
4 p.m., 5:30 p.m., and 7 p.m.
Non-denominational service with kerosene lamps and pump organ.
Enjoy cookies and cider in the Old Town Hall following each service.
Visitors welcomed to come in 19th century attire!
*All historic buildings will be open for Tours*
Sunday, December 6th
Franklin Public Library
9151 W. Loomis Road
3 p.m. - Christmas Story Time
3:30 p.m. - Historic Holiday Crafts & Activities
4 p.m. - Caroling (in front of the fireplace)
4:30 p.m. - 6 p.m. - Meet & Greet Santa & Mrs. Claus
5-6 p.m. - Hot Chocolate & Treats (Fadrow Room)
**Tractor hay rides will be provided between the Library and the Historic Village at Lions Legend Park form 3 p.m. to 4:30 p.m. All historic buildings in the Historic Village will be open for tours!**
**Please bring non-perishable food items to support
the Franklin Food Pantries**

Advice from a Barn - Mugs & Magnets
Joan Thompson has introduced a new fund-raiser for the barn project. Advice from a Barn mugs & magnets are being sold with all the proceeds going to the barn fund. The mugs sell for $15 and the magnets for $5. These items will be on sale at future FHS events or by calling Joan at (414)529-3675.
Steve Gyuro is reconditioning the Ludwig Outside
St. Peter's Chapel was built in 1869 by families who had left St. Paul's Lutheran Church on S. 51st Street. It remained open until 1883. This photo confirms that the church also served as a school for a time and that the pastor and his wife lived in the upper level. In 1983, the building was moved to the park and is now used for weddings, tours, and annual Christmas services.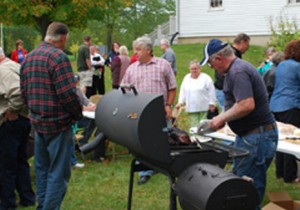 On Sept. 15 the Franklin Historical Society dedicated our newest building, a smokehouse, which we used for a great cookout.
On the 4th of July Mary DeMotto and Neil Verburgt were married in the FHS St. Peters Chapel. Neil and Mary hosted an annual 4th of July picnic for family and friends. Other than their children the wedding remained a secret to everyone until their guests arrived for what they thought was just a picnic. Please follow the link below to our story page for an interesting story written by Judy Scherrer about this wedding.
On Saturday December 14 there were three non-denominational Christmas services held in our St. Peters Chapel in Lions Legend Park. After each service, cookies, snacks and beverages were served in the Old Town Hall. Live music and song of the season were enjoyed by all. All five of our historic buildings were opened for touring for the wonderful family event.
Franklin's Mayor Steve Olson (far left) officially opens the Franklin Historical Society's annual membership meeting. Pictured behind the mayor is The Community Chorus. The chorus gave an outstanding performance for the FHS members and guests!
The Franklin Historical Society hosted a Spring Barn Dance at the Hideaway on S. 76st. in Franklin to raise funds for the rebuilding of the historic Wendt family barn in the FHS historic village. Great live music was provided by Vern & The Originals.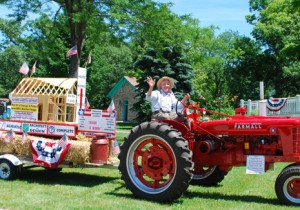 During the City of Franklin's 4th of July celebration the FHS had this beautiful float in the parade demonstrating our historic barn building project. After the parade we opened our buildings for touring with a record number of visitors.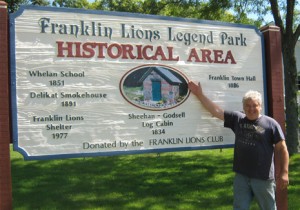 Steve Gyuro pictured here with help from John Borchardt of Calendia completely overhauled the Lions Legend park sign in front of our historic village. The Franklin Lions had donated the sign to the City of Franklin and the FHS many years ago. Steve made one important change by adding a replaceable center that now the picture of one of our buildings can be easily changed so we can feature different buildings.
Use the Arrows on the left or right of the image to rotate through. Enjoy.
Chapel Weddings
Our chapel is available for weddings and other ceremonies. Couples interested in a quaint chapel wedding ceremony are welcome to rent the St. Peters Chapel for such a service. The chapel holds up to 50 guests and an organist is available if requested. For reservations, contact Marian Luckey at 414-421-6539 or luckeyjim@yahoo.com.
Tours Available
We love to show our buildings to anyone interested in a tour. If your group or organization is interested in a tour please contact us to schedule.
Living Museums
Whelan School Living History Experience: Teachers are invited to sign up their elementary class for a day of learning in a rural one room school setting. Contact Barbara Pforr at Bap4@earthlink.net for more details.
Scout Outings
Tours of our grounds make great outings for Girl Scouts and Boy Scouts.