The mission of the Franklin Historical Society is to seek to preserve and foster appreciation of local history and to maintain living museums for educational and community enrichment.
Upcoming Events  2023
Summer Concerts in the Park
The Franklin Historical Society will have our buildings open for touring during the dates below starting at 3 p.m. The concerts start at 1:30 p.m. They all are on Sundays. The concerts and the FHS tours are FREE.
1. June 25, 2023 – The Falcons (Classic Rock)
2. July 9, 2023 – Floor It ( Rockabilly and 50's/60's Rock 'n Roll)
3. July 23, 2023 – Swing of Pearls (Hits from the 30's and 40's)
4, August 6, 2023 – Concord Chamber Orchestra (Classical Music)
5. August 20, 2023 – Larry Lynne ( Mix of Rock, Country and Blues)
Sunday July 2nd Open House
During the City of Franklin's Independence Celebration the Franklin Historical Society will open our buildings for touring right after the city's parade witch begins at 1 p.m.
Tuesday 4th of July Independence Day Celebration
The Franklin Historical Society will open our historic village of buildings for what we call a "A Happy Fourth of July" family program. Our village is located at 8030 S. Legend Dr. directly across the back parking lot of city hall. There will be readings of the Declaration of Independence, patriotic music, games, relay races, treasure hunts, Fourth of July trivia and tours of all our buildings. The program is free and will start at noon with the family activities from 1 to 3.
Easter Egg Hunt Open House
On Saturday April 8 the Franklin Historical Society opened our historic buildings for touring right after the Lions Club Easter Egg Hunt. We had a huge turnout of many families who enjoyed and found the tour most interesting.
Fall Fest Program 2022
On Saturday October 22nd, 2022 the Franklin Historical Society opened our Franklin historic buildings from 1 p.m. to 4 for a special "Fall Fest" program. Each building  had a live demonstration of how Franklin people lived and worked in the 19th and early 20th centuries. Activities include weaving from our loom, wool spinning, blacksmith operations, rope making, 19th century cabin cooking techniques , use of our smokehouse, use of an apple press along with some history of the use of our chapel and one room school house.
The Franklin Historical Society opens our buildings upon request for groups interested for a free private tour. Call Jim Luckey at 414-421-6539 to make arrangements.
Vietnam Veterans Program – 2022
Saturday April 30, the Franklin Historical Society hosted a "Vietnam Retrospective" program developed by Doug Schmidt and the Franklin Historical Society at the Franklin Public Library. We had a great turnout of guests. They were greeted by songs of the Vietnam era Doug had set up. He also had over 100 pictures that rotated during his presentation of the history of the Vietnam War from its earliest beginnings to the withdrawal and the politics involved.
A Franklin Christmas – 2021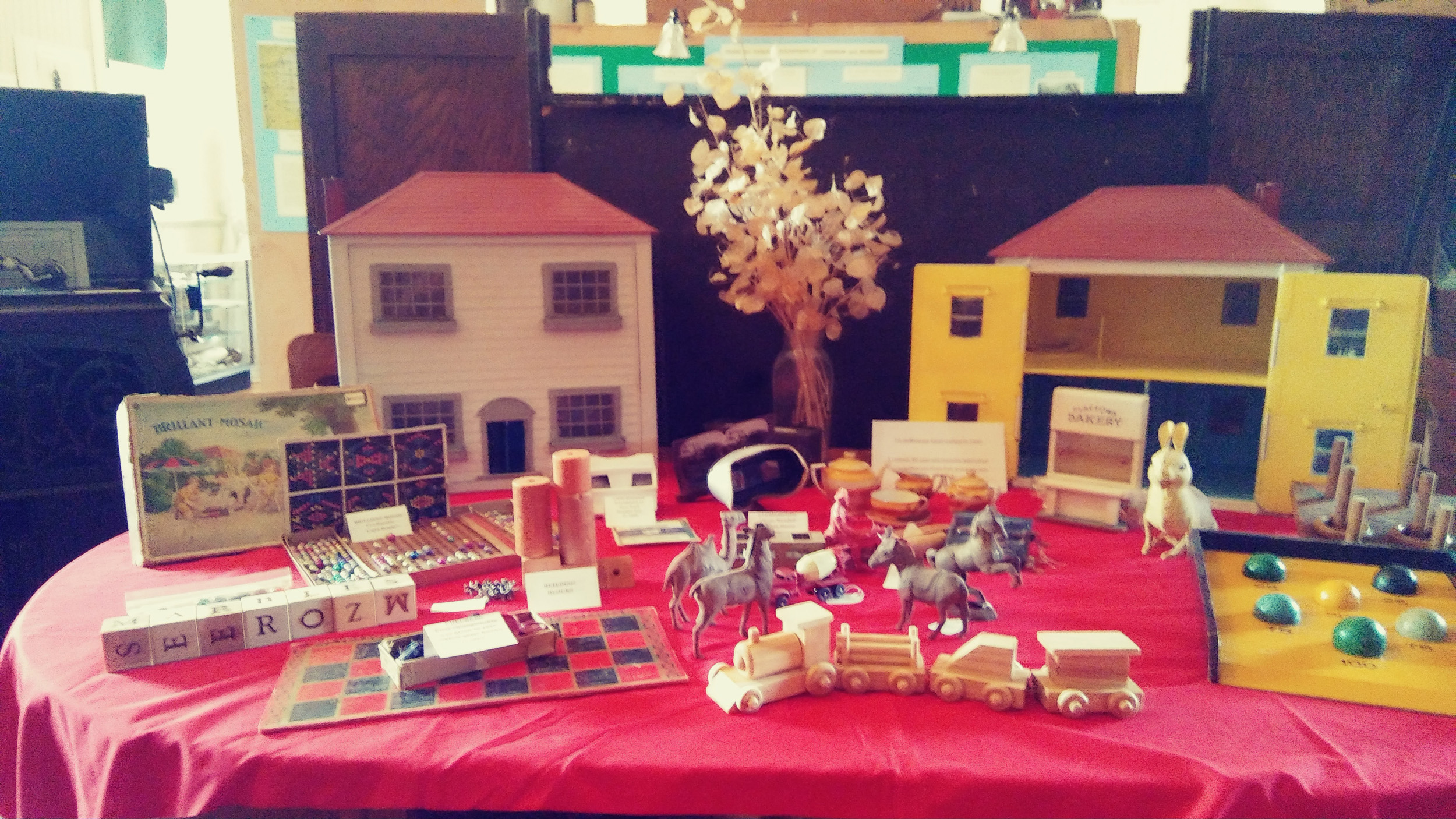 Christmas Nativity Walk 2020
On Saturday December 5th the Franklin Historical Society along with Morning Star Productions hosted a special Christmas program. Biblical Christmas characters were stationed on the pathways of our historical buildings doing their performances.
The sun shines brilliantly over the newly painted Franklin Barn Museum in Franklin's Lions Legend Park in the Franklin Historical Society's historic village. The color is called barn red and is trimmed with a classic white paint.
Historic District
The Franklin Historical Society's village of buildings has been land marked in 2018 as a "Historic District" by the Milwaukee County Historical Society.Pictured below is our new General Store display in the Old Town Hall.