Franklin Through The Ages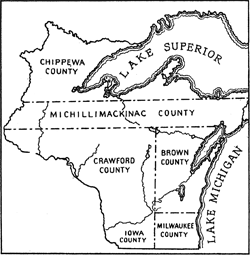 Town 5 North, Range 21 East. That was Franklin's first designation as a quadrant of the Wisconsin Territory formed in 1836. The township covered 36 square miles, which was destined to make it the second largest city area-wise in the state of Wisconsin. In 1838, the locale was officially named Franklin in honor of statesman, author and inventor Benjamin Franklin.
The 1830s saw the first wave of European immigrants arrive from Ireland. Franklin's array of natural resources made it an attractive location for foreigners who were accustomed to physical labor. The township was heavily forested with a variety of hardwoods including walnut, oak, aspen, lynn, sugar maple, ironwood and hickory. Since the 36-mile expanse also featured an abundance of wild game, wetlands and the Root River, it remained a favorite hunting ground for Native Americans as well as white settlers. The Irish were followed by Dutch immigrants in the 1840s and Germans in the 1850s. With each wave of settlers, Franklin grew into the largest farming community bordering the southern expanse of Milwaukee County.
The first recorded history of Franklin dates to December 20, 1839 when it was recognized as a civil town. By virtue of the Northwest Ordinance of 1785, the United States government established that lands be surveyed into townships and sold for $1.25 per acre with a minimum purchase of 80 acres. Surveying began in 1836 and land in Milwaukee County went up for sale in 1838. Prosperous farmers from northeastern states sought prime prairie land for large scale wheat crops, leaving the heavily wooded Franklin area for less wealthy immigrants. The Wisconsin Domesday Book noted that "It would seem that some at least of the American entrymen were persons in poor circumstance who could not afford to farm on the prairies, but who were able to make small clearings in Franklin which sold readily to Germans and other by reason of favorable location to the town."
St. Martins Settlement
The early immigrants settled along routes of transportation and churches and businesses soon followed. St. Martins, Harrisburg, Painesville and Oakwood were examples of small hamlets that originated in various parts of Franklin. The most visible and well planned settlement was St. Martins, which developed after the arrival of Father Martin Kundig in 1847. He established Holy Assumption Parish and was a key force in platting the village in 1850. Because some German immigrants had trouble understanding the English-speaking Irish worshipers, construction of another Catholic church was requested. A portion of the land deeded to Holy Assumption Church in St. Martins was donated for construction of Sacred Hearts Catholic Church to accommodate the German congregation in 1858.
Franklin's earliest known non-native settlers were Michael and William Sheehan who arrived from County Cork, Ireland, to register a claim in 1834. In 1836, the Sheehan brothers built Franklin's first European-style log cabin in the 10600 block of St. Martins Road. Later, they were joined by their brother Patrick and his family along with other members of Michael's family. A two-story addition was attached to the cabin during the 1850s to accommodate additional family members. Michael Sheehan died while rebuilding Holy Assumption Church in 1846, Patrick Sheehan died in 1896, and no records have been found for William Sheehan after 1869. The cabin remained in the family until Dennis Sheehan, the last of Patrick Sheehan's sons, sold the farm to Michael Godsell in 1911.
Michael Godsell and his wife raised five children, including a son, Tom, who bought the farm in 1920. Tom Godsell married Mary Wallace in 1921 and they continued to live on the farm with their seven children until 1967. With the exception of the Tuckaway Country Club built on the former William Boldt and William Ludwig farms in 1966, Franklin's rural landscape remained virtually unchanged throughout the 1960's. However, Fanklin's vast expanse of aging farmland soon became attractive to real estate developers, sparked by the transformation of the Godsell farm into the Mission Hills subdivision in 1965. It was Franklin's first major development since the early 1950s when the Security Acres subdivision sprung up along S. 76th Street south of Puetz Road and the Towne subdivision was developed along Rawson Avenue S. 35th and 38th Street.
Early Businesses
Early business in Franklin reflected the times. A five story windmill for grinding grain was moved from Kenosha County to St. Martins in 1868 and served farmers well until it was torn down in 1932. The Burwood Creamery located at 68th Street(Colby Road) and Ryan Road processed milk delivered by the farmers on horse-drawn wagons. Beer was brewed at the Gross Brewery in Franklin(St. Martins/Harrisburg) starting in the 1850's, and sold at the tavern on the premises. The Gross Brewery benefitted from its connection to the Miller Brewing Company. Frederick Miller, founder of Miller Brewing, married Elisabetha Gross at Sacred Hearts Church(St. Martins/Franklin) in 1860. After their marriage, the majority of the beer produced by the Gross Brewery was sold through Miller Brewing until the Gross Brewery closed in 1896. (Remains of the brewery and tavern still exist.)
As autos became more popular, taverns emerged to provide social and recreational activities in Franklin. Most notable were Walter Heiden's and the White Dove, both located along 76th Street (Center Street) and the Buckhorn Tavern at the intersection of 27th Street and Ryan Road. The White Dove and Buckhorn also served as post office stops. The White Dove, for example, was built by Ed and Marie Stremke on the site of a blacksmith shop in 1928 and was named after an American Indian named White Dove who carried mail along a trail which became known as Loomis Road (Hwy. 36) en route to Burlington. Dance halls at Heiden's and the White Dove also hosted ceremonies for graduation classes from Franklin's one room schools.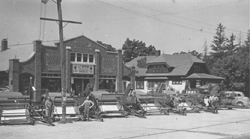 Ervin Tretow established Franklin's first auto repair shop on Loomis Road in 1927 and it remains a family operation at the same location today despite the fact Old Loomis Road was by-passed when Hwy. 36 was reconstructed into a major divided highway which signaled the demise of the White Dove in 1968. Highway expansion also ended the existence of Poths General Store at the intersection of 76th and Rawson Avenue in 1955. Andrew Poths opened the store in 1916 and his son, Peter, continued serving the domestic needs of Franklin families until 1955.
Other long standing service stations included Joseph Acker's Mobil Service at 76th Street and Ryan Road and Julius Jecke's Sinclair Service at Loomis Road and Ryan. Jecke's doubled as a tavern and later, an ice cream parlor.
For several decades, two long time family businesses anchored St. Martins Road. R.A. Mayer began selling Allis-Chalmers tractors in 1928 and he served as a town supervisor from 1934 to 1948. He was succeeded by a son, David, who served as a town supervisor and city alderman for nearly 40 years. Another St. Martins landmark was Herda's Farm Implement and Feed Store which provided a vital link for the prosperity of all the farmers.
While Herda's and R.A. Mayer Equipment have since closed, St. Martins Road remains a focal point of a community tradition when it hosts over 100,000 visitors every Labor Day weekend for an annual fair. Originally established as a venue for farmers to sell tools, equipment and fresh produce, the Labor Day Fair originated along Hwy. 100 in Hales Corners in 1865, but through the leadership of Franklin farmer Walter Barbian, it was moved to St. Martins in 1958. Changing times have transformed the annual event into more of a family festival.
From Rural To Suburban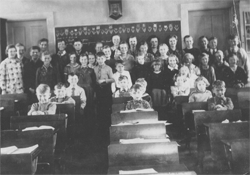 As Franklin's population nearly doubled during the 1950s, the new wave of "suburbanites" forced the town fathers to reexamine Franklin's educational needs and Franklin School District No. 5 was formed in 1951. In 1953, Franklin's four remaining one room school houses, Whelan, Green Valley, Riverside, and Stargard, were consolidated into a new elementary facility, Ben Franklin School, on S. 76th Street. Four years later, the District merged with Country Dale School and Willow Edge on the west end of town to form a single K through 8 district.
In December 1961, ground was broken for construction of Franklin High School on the Angerstein farm along S. 51st Street, just south of Drexel Avenue, and it opened in September 1962 with Romuald Kucinski serving as principal. The growing population also led to the construction of other elementary institutions, Pleasant View (1964), Robinwood (1967) and Forest Park Middle School (1970), before the decade had ended. Southwood Glen was added in 1991 and a new Ben Franklin School opened in 1999. The original Ben Franklin school was torn down and replaced by a condo development.
Political Changes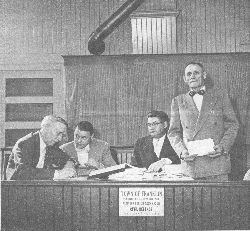 During the 1950s, the Town of Franklin sought to become a fourth class city to avoid being annexed by the City of Milwaukee. Doing so required a minimum population of 10,000, but the town was short of the number. However, including the inmates at the Milwaukee County House of Correction pushed Franklin's population total to 10,006, and in 1956 Franklin was incorporated as a city. As late as 1962, though, the city was patrolled by just one policeman, Constable George Davitz.
After Franklin residents voted 704-220 to incorporate as a city on August 14, 1956, Robert MacDonald defeated Town Chairman Tom Godsell to become its first mayor. MacDonald served two terms through 1960. From 1962 through 1970, Franklin experienced some turbulent times under Mayor Ted Fadrow as the community struggled to balance civic and economic growth. A police department was established in 1964 and Franklin's first paid firefighters were added in 1969. Ground was broken for Franklin's present City Hall in 1970.
In 1964, the City of Franklin purchased the 54.5 acre Hardy farm on Ryan Road for the start of the Franklin Industrial Park. Two years later, the Park expanded to 59 net acres with purchase of a defunct U.S. Government Nike site on S. 60th Street. In 1985, Franklin tabbed its newly formed Economic Development Commission to sell 100 acres in the Industrial Park. As more manufacturing businesses arrived, another 450 acres was purchased for Phase II to develop the Franklin Business Park. At the park's opening, the selling price per acre started at $69,000.
Today Franklin's population has swelled to nearly 34,000, an increase of 14.6 percent since the 2000 U.S. census. That percentage increase is the largest among cities of more than 20,000 in southeast Wisconsin. In 1850, by contrast, Franklin had 1,248 residents of which 642 were foreign born.
As an indication of how far the city has progressed, Franklin is ranked 90th on Money Magazine's list of 100 "Best Places to Live" in the nation for 2007. The study focused on smaller cities that offered "the best combination of economic opportunity, good schools, safe streets, things to do and a real sense of community".