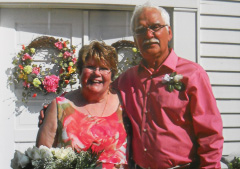 For a local Franklin couple this past 4th of July celebration turned out to be a very important day and one that will hold special memories for a long time. Mary DeMotto and Neil Verburgt not only hosted their annual July 4th picnic for family and friends after the Franklin parade, but they announced that they were about to be married.
Neil got the group's attention by saying he had an announcement to make. What he told everyone was that the occasion was more than just a 4th of July party, but that it was also going to be a wedding party. One of the guests then wanted to know when the wedding was to occur. Neil then told the guests that as soon as both he and Mary changed their clothes and everyone walked over to the church, the wedding would start in about 45 minutes.
Some of their guests were unaware that the couple had even become engaged over the Christmas holiday or that the church, St. Peter's Chapel in the Franklin Historical Park, was in walking distance of their residence.
The bride and groom's children were in on the secret from the beginning since they were to be a part of the wedding party. Mary's daughter, Kelly Tarczewski, served as her mother's Matron of Honor and Neil's son, Nick Verburgt, served as his father's Best Man. Mary's granddaughter, Karissa DeMotto, also had a role in the ceremony by reading a liturgical verse. Daughter Kelly also was responsible for decorating the interior and the exterior of the old chapel for her mother's wedding.
With 47 guests in attendance and two dozen white roses on her arm, Mary and husband-to-be Neil walked up the aisle to music being played on the chapel's antique pump organ by Marian Luckey, a member of the Franklin Historical Society.
The ceremony was performed by the Reverend Roger Boesch, who is also the pastor that leads the non-denominational Christmas services in St. Peter's Chapel each December. Those Christmas services are presented by the Franklin Historical Society yearly on the second Saturday in December. It was from attending those Christmas services that Mary and Neil got the idea of holding their wedding at the old chapel. They had wanted a small wedding just for close friends and family so they decided that the old church would be a perfect place.
After the ceremony the couple hosted a reception at their home. At first Mary thought that they would cater the meal, but her daughter told her not to do that because the guests might become suspicious. Mary had always had a pot-luck supper so nothing was changed, other than ordering a wedding cake. Their celebration concluded with everyone watching the Franklin 4th of July fireworks. It was, as Mary and Neil said, an ending to a beautiful day.
Mary and Neil have been one of many couples who have had their weddings at the old St. Peter's Chapel. Some couples have even arrived and departed by horse and buggy, in keeping with the customs of the era.
St. Peter's Chapel was moved to the Franklin Historical Park in 1983 from its previous location on S. 68th St. north of Rawson Ave. after being donated to the Franklin Historical Society. It was originally built in 1869 by a group of German Lutherans who had left St. Paul's Lutheran Church, also located in Franklin.
It is unclear why those members left St. Paul's, but eventually their numbers declined and the church closed. It stood on its present site next to the St. Peter's Cemetery for years, sometimes only being used for funerals.
Today the chapel stands as one of five buildings in the historical park and is open for tours but can also be rented for weddings and other special events. It retains its historic look with wooden pews, oil lamps adorning the walls and an antique pot-bellied stove in the rear. For information regarding reservations to use the old chapel contact Franklin Historical Society member Barbara Pforr (bap4@earthlink .net)
– Judeen Scherrer